You have been playing for a while now and you fell in love with this beautiful instrument. However, your student flute has seen better days and reached its limits. In other words, you can hear the metal and imperfections and you have outgrown it. Therefore, we are looking at the best intermediate flutes.
The best intermediate flutes
---
First of all, above a certain range, there are no really bad choices anymore. In fact, those were possible with student flutes, but at least it didn't cost you a fortune. Moreover, if you wish to dive deeper into the beginner flutes, please refer to this article.
However, you have managed to overcome that first big choice and here you are wanting to know everything about the intermediate flutes. In fact, those are instruments that will accompany and hopefully facilitate you in the progress between a hopeful beginner and a dedicated professional. But if chosen well, it can also be your last flute. It depends on your final use of it. In other words, you might find a flute here, that lasts a lifetime!

How to choose an intermediate flute
---
Above all, your new flute should be offering a warm and rich range of tone quality. In addition, it should be precise in response and carry the sound far. This depends much on the material. Therefore, you should look for a sterling silver flute. In other words, do not buy another nickel or nickel silver flute.
Furthermore, the flute should be stable and a little heavier. In other words, a diameter between 0.4 and 0.43 should allow you to get a vaster timbric range. Also, look for the warranty and assistance offered after buying. For instance, you might look at professional pads and a well-established brand.
Probably, you won't need it for a few years, but look for a brand that a professional repair shop close to you can serve well. Nowadays, that is not a big problem anymore, but you might want to consider this thought. Or just go with what you like best and ship your flute for overhauls to a professional center. More on that in my flute care article.
After that, look for the offset or inline G mechanism, that you are already acquainted with from your beginner flute. However, what I suggest to change, is the C foot. You might want to goo with a B foot now. Those generally offer the gizmo key, that helps produce smooth and flexible high C"". Consider looking for a D # roll as well. This facilitates the transition from C or C# to D#. Split E goes without saying.
Some might wish for a golden lip plate, or even golden head joint. I, myself had a golden mantle on the inside of the lip plate. But there is no must. Just something my intermediate flute came with and I loved it. However, go definetely with open hole keys, you will need them!
A flute with these characteristics can easily accompany you through your whole music education to your flute degree and help you win auditions and competitions. Eventually, as a professional musician, you might want to upgrade again, but till then, you will be very well accompanied by one of the following.

4 best intermediate flutes on topflute
---
Now it is your time to choose! If you get one of the following you can't do anything wrong. Just bear in mind the things to look for that I explained one section up. After that, it all comes down to your personal preferences. But, should you have questions on anything, please ask and share through the comment section. I will be very happy to help you out!
For best-selling options, click on the pictures or description beneath. You might also find some stunning offers of pre-owned or show case flutes that are in perfect condition. Find out how to become a proud owner now!
---
Yamaha Professional 777H Series
entirely sterling silver head joint, body and keys
warm and expressive colors that only the finest silver flutes can provide
heat treated with Yamaha's proprietary acoustic annealing process
impressive evenness of tone and response throughout all registers
hand-finished sterling silver head joint is a modified version of the Type A head joint
specially designed cut of the head joint
offers incredible response and an impressive dynamic range
0.43mm wall thickness which for a remarkably warm and rich tone
standard with Straubinger Phoenix Pads, precise and consistent seal
lighter touch and quicker action
keys feature traditional pointed key arms, elegance
open-hole keys with pointed key arms
Offset G 
split E
B Foot joint
includes case, case cover aand cleaning rod
5-year warranty, made in Japan
This flute is widely used and tested and many of my fellow students played it and enjoyed it.
But the following is the flute I played on intermediated level and still consider the best option:
---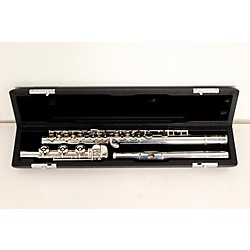 all silver instrument
possesses a mellowness and transparency that is most characteristic of the flute
majestic sound, lush tone colors in the upper register that are remarkable
all nuances and supple dynamic changes can be easily achieved
both edges of the embouchure have been slightly rounded and the plate height and embouchure have been altered to allow for a larger and richer variety of tones
the head joint's style is designed to offer a stable and an even sound quality across the registers
drawn-up tone holes
0.40 mm tubing
10K White Gold springs
inline or offline G
D# Roller
B Foot
handmade work of art!
The following flute is the intermediate version of the professional flute I play now and I highly recommend this brand:
---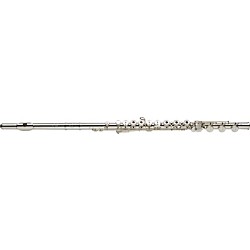 700 series flutes are the top of the line from Sonare
handmade, sterling silver, Powell Signature head joints
sterling silver bodies, with the Modern Powell Scale
Elgiloy steel alloy springs
french pointed arms
professional flute in a class all its own
B foot
open key holes
inline G
The following has recently been bought by a student and she is very happy with her:
---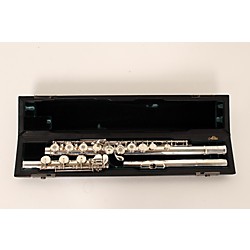 Altus 1107 Series Handmade Flute
exceptional hand craftsmanship
tonal color, and playability of Altus flutes
AltusBennett scale
stainless steel springs
French-pointed keys
elegant wood-frame French case with leatherette finish and padded nylon case cover
.958 Britannia silver head joint and body silver
offers a dark, rich color without sacrificing brilliance
Sterling silver-plated mechanism
extruded tubing with drawn and rolled tone holes
handmade by Shuichi Tanaka
Offset G
Split E
B foot
open holes
The best intermediate flutes become an extension of your body
---
In conclusion, at this level you can say that the best intermediate flutes become an extension of your body and should resonate with you. In addition, your body will adapt to form the cavities and air stream movements that best fit your flute. Many many hours spent together will make you a little family, and "I married mine" as you might have read in the beginners' flute article.
Just kidding, but not far from the truth. For instance, your fingers and hands will adapt to the mechanics. Your lips will find the perfect spot and your whole body will memorize the position of every sound in its cavities and air ways. This is a wonderful feeling and will not take long, because you are going to love your new instrument.
In order to take good care of it, have a quick read through my article on flute care.
Moreover, it will be so easy to play, now that you made a beginners' flute sing, you can play on anything. However, the flutes discussed above, offer so much quality, precision and excellence, that you will feel as if they did all the work.
At this point, I have to warn you! When I went through this rite of passage, it was so easy to play the same way with less effort, that I wouldn't play better immediately. Therefore, don't fall in the same trap! Explore your new flute and new possibilities and grow with it. What a wonderful thing the life with a flute can be!
Enhance your flute experience with the following suggestions from topflute:
Best wishes,
Janie